Skin Relief Level 2
Natural Ingredients To Calm Skin
Don't be fooled by this little ones size. This topical cream packs a punch! 
With added tea tree oil, centella and st johns wort, this cream may calm red, irritated, sore skin within a short period of time. 
Simply cleanse your skin.
Apply Level 2 Skin Relief to skin. 
And then moisturise with the Skin Repair & Barrier Cream.
As Level 2 Skin Relief does not contain any moisturiser, it is always recommended that this product is used with our Skin Repair & Barrier for the most effective way to calm skin. 
Certification: Natural, Toxic Free, Australian Allergy Certified
Size: 50ml (1.69 US fluid ounces)
Shop With Confidence
Orders Dispatched 8am Every Week Day.
Domestic Orders: Normal & Express Options
International Orders: Express International Courier
FREQUENTLY ASKED QUESTIONS
How do I use the 3 Step Skin Relief Kit?
You will be provided with detailed information about how to use each product during each phase of your skin management.
When you are experiencing any minor skin irritations, we recommend:
Step 1: Bath in Skin Bath Salts (for a maximum of 4 days)
Step 2: Apply Level 2 Skin Relief & moisturise with My Mia's Skin Repair & Barrier Cream
Step 3: As your skin returns to normal, use Skin Relief Level 1.
This cream is also helpful for dry skin on your face, scalp and is an excellent hand cream.
Why does my skin become worse in Winter - can My Mia's help?
Mia would ALWAYS struggle with her skin during Winter. I found this was because she was always wearing long sleeves and her body was warm (which dried her skin out even more). As she continued to itch her skin, it became a downward spiral. There is also allot to say about exposing your skin (for short periods of time) to our beautiful sun for some natural vitamin d. This is another element missing during Winter.
My Mia's will help you calm your skin. And our Skin Repair & Barrier cream provides an intense level of hydration which protects the skin from drying out.
Can these products be used during pregnancy?
We have babies (from 3+ months) using My Mia's and they have reported amazing results. As every person is unique, we cannot make any medical recommendations - What we have done is provided you with our full ingredients list, so that you may discuss every option with your Doctor and make the right decision for you.
How can a product that can be used for a baby, also be helpful for an adult?
This is a fair question. For a baby or child using the My Mia's Skin Relief products is sufficient to calm down minor skin irritations.
My Mia's Skin Relief products are gentle skin care products. However if someone is struggling with severe skin conditions/ eczema/ or psoriasis it is always advisable to get medical advice.
LET OUR CUSTOMERS SPEAK FOR US
Customer Reviews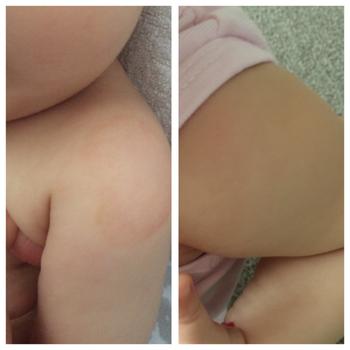 02/12/2020
Amazing product
Within 3 days of using this product ,my daughter's eczema cleared. I can not recommend it enough,it's totally worth the money and what I love mostly is the natural origin of the ingredients. Thank you so much ❤️
MARIA K.
Australia
10/14/2020
Excellent Natural Cream!
My body reacts to most creams, but not this one! It calms inflammation, quells the itch and heals the skin - a real help for my eczema. Thank you Mi Mia's for an excellent and natural product.
Cindy O.
Australia
08/23/2020
Fantastic
A great product can't recommend it highly enough
Michelle H.
Australia
10/01/2020
My Mia's Skin Relief
Bless, thank you Michelle. xox Geeta
06/10/2020
Didn't work for me :(
Product is well packaged, lovely rich texture and smells lovely, reasonable price and fast delivery unfortunately for me I had a reaction to one of the ingredients and my eczema got worse, I kept using it in the hopes it was just a transition period but it didn't improve but that's just for myself personally and I'm sure it works great for others!!
Geraldine L.
United Kingdom
10/01/2020
My Mia's Skin Relief
Hi Geraldine, Thank you so much for taking time to try our products and your kind review. I'm sorry to hear the products didn't work out as well as we had hoped. That's sadly the challenge with products - as every persons skin and health is different, we all react differently to each product. I hope your eczema calms soon. Sending you so much love. xox Geeta
06/02/2020
Life changing
Thank you so much I can not recommend your product enough it has literally changed my youngest sons life and mine. Within one use the eczema has healed so dramatically. You've saved this mummy from crying anymore x
Kerry T.
United Kingdom
10/01/2020
My Mia's Skin Relief
Ohhhhh Kerry!!! Your review has made this mummy teary!!! Tears of joy and gratitude. I feel soooooo happy that your son's skin has calmed so much. Sending you and your family so much love, xoxo Geeta
We recognise these are amazing results, from real & genuine customers.
However, it's very hard to say with 100% certainty that any product (be it food- skincare - supplements) will work exactly the same way for every person.
We are all different, with different skin types, health, age and life style. Therefore please know, results may vary from person to person.
I was surprised at how quickly the creams took effect
My son started using My Mia's Eczema creams less than 2 months ago and his skin looks and feels incredible. We've cut down on our reliance of steroids. His personality is back to normal and he's now a happy little boy who can be a kid again. I'm very surprised at how quickly the creams took effect.
Lisa & Connor
For full testimonial Click here
The redness goes away really quickly... His skin feels beautiful
Nate's eczema gets quite severe on his face, his groin, his bottom, tummy, underarms. We're using
the My Mia's creams. The redness goes out straight away. It heals up very quickly.
I go straight to, the
creams now because they're just so much cleaner and healthier and they work.
Britt & Nate
For full video testimonial Click here
After 3 days I noticed a pretty impressive difference and he stopped itching.
A girlfriend referred me onto My Mia's and I reluctantly gave it a try. We used the bath salts, the level 2 cream and the barrier cream morning and night. After 3 days on the products I noticed a pretty impressive difference and Lenny had stopped itching. I've been so impressed with the products and how they've helped my son. Geeta, from one mum to another trying to help give their children some relief. THANK YOU!
Courtney & Lenny
For full testimonial Click here
Business Ethos
Having eczema is not pleasant, but having no skin at all is even worse! We are a big fan of the amazing work the Fiona Wood Foundation is doing; like developing spray on skin for severe burns patients. At My Mia's Skin Relief we lovingly support this amazing charity with monthly donations from the sale of our products.

We love Mother Nature. We have also committed to running a carbon neutral business. As a result, we are offsetting any carbon emissions created from running an online business by planting a grove of trees every year.

Animals are our friends. Not our test objects. Of course, none of our products have ever been tested on animals. Ever. So yes all of our products and manufacturing practices are cruelty free.