Skin Relief Kit
Fast Acting, Effective, Organic & Natural Skin Relief Kit
To treat your skin is one thing. But to give it a complete overhaul, with cleansing, treatment and deep hydration is another. It is like an skin spa treatment from the comfort of your own home.
That is why our Skin Relief Kit is so incredibly unique in its application. This step by step approach may transform your skin gently and effectively.
Our skin relief kit contains all the products you need:
Step 1: Cleanse & Clear with our Skin Relief Bath Salts
Step 2: Repair & Regenerate with our Skin Relief Level 1 & Skin Relief Level 2.
Step 3: Hydrate & Protect with our Skin Repair & Barrier Cream
This systematised approach to manage your skin may:
Cleanse & calm your skin
Deeply hydrate your skin
This step by step approach has helped many customers, and this may be the answer you are looking for as well. 
For more details on our product range, continue to scroll down this page for:
Product ingredients
Benefits
Customer Reviews
Shop With Confidence
Orders Dispatched 8am Every Week Day.
Domestic Orders: Normal & Express Options
International Orders: Express International Courier
Benefits
With My Mia's 3 Step Skin Relief, you will:
- Calm your skin quickly and effectively
- Maintain deeply hydrated and nourished skin
- Be using organic, natural and toxic free plant-based ingredients which will support your body (not add more toxic load)

---
OUR THREE-STEP SKIN RELIEF PROGRAM
After two stays in hospital, 6 months of UV light therapy, bleach bath, antibiotics and 8 tubes of steroid cream, I decided enough was enough. We took a holistic, natural and gentle approach to manage her eczema. This included diet, supplementation and a natural skin care regime (our Skin Relief Kit).

We have developed a three-step skin relief system, which takes you through a critical step by step process (developed from our hospital experience but using organic, natural and toxic free skin care products) to:

1. Cleanse & Purify
2. Restore & Regenerate
3. Hydrate & Protect
Ingredients
Apricot kernel
Anti-inflammatory, antioxidant and antibacterial: calms and soothes skin irritated by eczema while also restoring moisture.
COCONUT OIL
Anti-inflammatory and deeply hydrating: soothes and forms a protective barrier to lock in moisture. It is easily absorbed and penetrates the skin's barrier to improve hydration, which provides welcome relief for eczema sufferers.
Sweet Almond Oil
Antibacterial, antioxidant: easily absorbed into the skin and is deeply nourishing for skin suffering from eczema.
Jojoba Seed Oil
Anti-inflammatory, antibacterial and antioxidant cold pressed organic jojoba oil: has a deeply moisturising and calming effect on dry skin, leaving it feeling wonderfully moisturised and nourished.
Shea nut butter
Skin moisturising and skin barrier protection: soothes, and moisturises the skin, which provides welcome relief to a person suffering from eczema, psoriasis or atopic dermatitis.
Rosehip Oil
Deeply moisturising: restores moisture balance to dry and damaged skin.
Tocopherol (Vitamin E)
Antioxidant: may help to repair scar tissue while also softening and repairing the skin.
Sunflower OIL
Antioxidant: calms and soothes red, irritated skin, while hydrating and improving the skin's barrier.
Ceramide & cholestrol
Skin barrier repair: creates a protective layer to lock in moisture, leaving skin feeling more moisturised and refreshed.
MY MIA'S VISION
Our daughter Mia struggled with the agonising pain of eczema for many years: bleeding skin, itching, crying in pain and to the final stage of losing all joy from her eyes..... Even after 2 stays in hospital, 12 months of UV light therapy, bleach baths, regular antibiotics and using up to 10 tubes of steroid cream every month... There was still no end in sight for Mia's eczema.

We made some holistic changes to our health & a big part of that was moving to organic, natural & toxic free skincare.

I can happily confirm Mia has not use steroids or antibiotics to manage her eczema for over 3 years... She simply uses the skincare system that I have developed for her.
Our products are the best and most effective way we have found to maintain great skin every day.

Our greatest wish is that our experience, our learnings & our products (which have been created with love).... will help you on your journey.


FREQUENTLY ASKED QUESTIONS
How do I use the 3 Step Skin Relief Kit?
You will be provided with detailed information about how to use each product during each phase of your skin management.
When you are experiencing any minor skin irritations, we recommend:
Step 1: Bath in Skin Bath Salts (for a maximum of 4 days)
Step 2: Apply Level 2 Skin Relief & moisturise with My Mia's Skin Repair & Barrier Cream
Step 3: As your skin returns to normal, use Skin Relief Level 1.
This cream is also helpful for dry skin on your face, scalp and is an excellent hand cream.
Why does my skin become worse in Winter - can My Mia's help?
Mia would ALWAYS struggle with her skin during Winter. I found this was because she was always wearing long sleeves and her body was warm (which dried her skin out even more). As she continued to itch her skin, it became a downward spiral. There is also allot to say about exposing your skin (for short periods of time) to our beautiful sun for some natural vitamin d. This is another element missing during Winter.
My Mia's will help you calm your skin. And our Skin Repair & Barrier cream provides an intense level of hydration which protects the skin from drying out.
Can these products be used during pregnancy?
We have babies (from 3+ months) using My Mia's and they have reported amazing results. As every person is unique, we cannot make any medical recommendations - What we have done is provided you with our full ingredients list, so that you may discuss every option with your Doctor and make the right decision for you.
How can a product that can be used for a baby, also be helpful for an adult?
This is a fair question. For a baby or child using the My Mia's Skin Relief products is sufficient to calm down minor skin irritations.
My Mia's Skin Relief products are gentle skin care products. However if someone is struggling with severe skin conditions/ eczema/ or psoriasis it is always advisable to get medical advice.
LET OUR CUSTOMERS SPEAK FOR US
Customer Reviews
09/28/2020
Ms B
Ms B (14yrs) had almost instant relief although initially she was complaining of "stinging" which was expected with her open weeping eczema. I do need to remind her consistantly to apply the creams and I'm sure the healing would be much quicker if she did. I took photos over 3 days and I'm amazed at the results.
Llanwyn J.
Australia
10/01/2020
My Mia's Skin Relief
This is sooooooo amazing and I'm so happy to read/ see this. xoxo Geeta
08/25/2020
The Eczema relief kit
My daughter was covered with eczema "atopic dermatits" head to toe, all her skin was fully covered even nappy area. She had bleeding and soreness between her creases everywhere, her head was in a bad state too. She started having skin problem since she was 4/5 weeks old. We tried many creams prescribed by gp (steriod cream made it worse) and I have bought everything organic and natural I came across, nothing worked for my daughter. Until we came across my Mia's!!! I did not hesitate and ordered straight away, as I was so desperate to make my baby girl better, it was heart breaking to see her in pain everyday ay. My Mia's is the fastest, Natural organic products that worked/working for my daughter, even within a day of using it I saw the results, I could not believe it!! her flare up was going down. It has been 5 weeks now I have been using it and ordered many times! I have stopped using everything Dr prescribed and did not look back. My daughter has not fully recovered but she's so much better than she was! I'm so Greatful for My Mia's products "the miracle cure"! Anyone who's suffering especially babies I would recommend my Mia's ‪1000000000‬ times!!!!!!! You will not regret! Best thing out there. (I don't give reviews on anything unless it actually does make difference) Also geeta thank you so much for all the help you have given me!! Your an amazing woman!!
Simz
United Kingdom
10/01/2020
My Mia's Skin Relief
Sima!! I'm literally jumping up and down in joy!! Having your baby transform so amazingly before our eyes is an absolutely dream come true..... This is the only reason why I started this business. Sending so much love to you and your beautiful baby doll, xoxo Geeta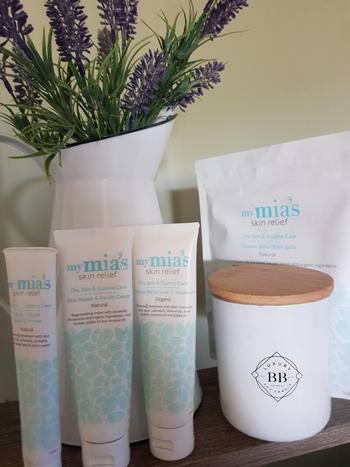 08/10/2020
Eczema Relief Kit
Great products, didn't use bath salt yet but creams save my 2years old daughter from using harsh steroids creams on her eczema! Also love your emails with advices how I can make my little girl healthier without harming medicines. If you looking for natural but still working products you should give it a go! Thanks
Anita R.
Australia
10/01/2020
My Mia's Skin Relief
Love, love, love this Anita!!! Thank you for sharing and I'm so happy to hear your little one is doing amazingly well. Much love, xox Geeta
10/23/2020
Working well for our 3 year old
We've been using the products for one week and already seeing a positive difference in our sons skin. It's much nicer to put on than lots of other creams we've tried and he is itching much less
Penny H.
New Zealand
10/21/2020
Healing in progress
we found the products seemed to be helping with major flame but being that we were using them on an adult the intense cream tube was way to small and only lasted 2 days. The original order took nearly 10 days to get to regional victoria so skin was pretty out of control by this stage and then ordered more express post but by time that arrived the skin was quite bad again. So still in process of working on calming it down. did love the lovely touch of little duck and sticker tha was included in package :)
Therese B.
Australia
We recognise these are amazing results, from real & genuine customers.
However, it's very hard to say with 100% certainty that any product (be it food- skincare - supplements) will work exactly the same way for every person.
We are all different, with different skin types, health, age and life style. Therefore please know, results may vary from person to person.
I was surprised at how quickly the creams took effect
My son started using My Mia's Eczema creams less than 2 months ago and his skin looks and feels incredible. We've cut down on our reliance of steroids. His personality is back to normal and he's now a happy little boy who can be a kid again. I'm very surprised at how quickly the creams took effect.
Lisa & Connor
For full testimonial Click here
The redness goes away really quickly... His skin feels beautiful
Nate's eczema gets quite severe on his face, his groin, his bottom, tummy, underarms. We're using
the My Mia's creams. The redness goes out straight away. It heals up very quickly.
I go straight to, the
creams now because they're just so much cleaner and healthier and they work.
Britt & Nate
For full video testimonial Click here
After 3 days I noticed a pretty impressive difference and he stopped itching.
A girlfriend referred me onto My Mia's and I reluctantly gave it a try. We used the bath salts, the level 2 cream and the barrier cream morning and night. After 3 days on the products I noticed a pretty impressive difference and Lenny had stopped itching. I've been so impressed with the products and how they've helped my son. Geeta, from one mum to another trying to help give their children some relief. THANK YOU!
Courtney & Lenny
For full testimonial Click here
Business Ethos
Having eczema is not pleasant, but having no skin at all is even worse! We are a big fan of the amazing work the Fiona Wood Foundation is doing; like developing spray on skin for severe burns patients. At My Mia's Skin Relief we lovingly support this amazing charity with monthly donations from the sale of our products.

We love Mother Nature. We have also committed to running a carbon neutral business. As a result, we are offsetting any carbon emissions created from running an online business by planting a grove of trees every year.

Animals are our friends. Not our test objects. Of course, none of our products have ever been tested on animals. Ever. So yes all of our products and manufacturing practices are cruelty free.