Eczema Relief Program (Kit + Course)
Eczema Relief Program (Kit + Course)
10 x Lessons to understand the cause and best way to treat eczema.
Lesson 1: What is Eczema? What is the most effective way to treat your eczema flare up?
Lesson 2: What are eczema triggers?
Lesson 3: Interview with Cyndi O'meara (Nutritionist/ Best Selling Author)- What was happening to Mia?
Lesson 4: Interview with Dr Tim Patel (Head of Department Emergency)- What is our gut microbiome?
Lesson 5: Interview with Kirsty Worth (Naturopath) - What is impact of parasites in our gut?
Lesson 6: What is one of the main causes of baby's eczema?
Lesson 7: Understand Supplementation and Alternate Therapy Available
Lesson 8: Deep Dive Into GAPS Books and Book Support
Lesson 9: Anxiety / Eczema & Mental Health + Sleep Habits
Lesson 10: Eczema & Mindfulness
Eczema Relief Kit:
Eczema Relief Bath Salts
Eczema Relief Level 1
Eczema Relief Level 2
Skin Repair & Barrier Cream
Shop With Confidence
Lovingly made in Australia Same Day Dispatch before 12pm AEST
FREQUENTLY ASKED QUESTIONS
Can this be used during an eczema flare up?
Yes, after you purchase My Mia's Eczema Relief Kit - You will be provided with detailed information about how to use each product during each phase of your eczema.
During an eczema flare up, we recommend:
Step 1: Bath in Eczema Bath Salts (for a maximum of 4 days)
Step 2: Treat the eczema flare up with Level 2 Eczema Relief & moisturise with My Mia's Skin Repair & Barrier Cream
Step 3: As your flare up calms down, you can use Eczema Relief Level 1 as a daily eczema presentation cream. This cream is also helpful for eczema on your face, scalp and is an excellent hand cream.
Why does eczema become worse in Winter - can My Mia's help?
Mia would ALWAYS struggle with eczema flare ups during Winter. I found this was because she was always wearing long sleeves and her body was warm (which dried her skin out even more). As she continued to itch her skin, it became a downward spiral. There is also allot to say about exposing your skin (for short periods of time) to our beautiful sun for some natural vitamin d. This is another element missing during Winter.
My Mia's will help you calm your eczema flare up. And our Skin Repair & Barrier cream provides an intense level of hydration which protects the skin from drying out.
Can these products be used during pregnancy?
We have babies (from 3+ months) using My Mia's and they have reported amazing results. As every person is unique, we cannot make any medical recommendations - What we have done is provided you with our full ingredients list, so that you may discuss every option with your Doctor and make the right decision for you.
How can a product that can be used for a baby, also be helpful for an adult or someone with severe eczema?
This is a fair question. For a baby or child using the My Mia's Skin Relief products is sufficient to calm down eczema symptoms and prevent flare ups.
However for someone suffering with severe eczema (like Mia) or an adult who has struggled with eczema their whole life My Mia's Skin Relief products are an excellent first line of defence. However, as their body is in a chronic state underlying issues with their gut health (microbiome) or weakened immune system may also need to be addressed (therefore a holistic approach needs to be taken to manage their eczema).
LET OUR CUSTOMERS SPEAK FOR US
Customer Reviews
08/25/2020
The Eczema relief kit
My daughter was covered with eczema "atopic dermatits" head to toe, all her skin was fully covered even nappy area. She had bleeding and soreness between her creases everywhere, her head was in a bad state too. She started having skin problem since she was 4/5 weeks old. We tried many creams prescribed by gp (steriod cream made it worse) and I have bought everything organic and natural I came across, nothing worked for my daughter. Until we came across my Mia's!!! I did not hesitate and ordered straight away, as I was so desperate to make my baby girl better, it was heart breaking to see her in pain everyday ay. My Mia's is the fastest, Natural organic products that worked/working for my daughter, even within a day of using it I saw the results, I could not believe it!! her flare up was going down. It has been 5 weeks now I have been using it and ordered many times! I have stopped using everything Dr prescribed and did not look back. My daughter has not fully recovered but she's so much better than she was! I'm so Greatful for My Mia's products "the miracle cure"! Anyone who's suffering especially babies I would recommend my Mia's ‪1000000000‬ times!!!!!!! You will not regret! Best thing out there. (I don't give reviews on anything unless it actually does make difference) Also geeta thank you so much for all the help you have given me!! Your an amazing woman!!
Simz
United Kingdom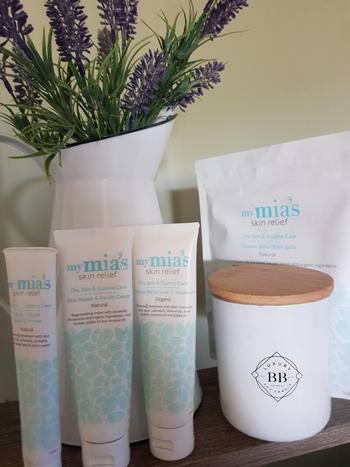 08/10/2020
Eczema Relief Kit
Great products, didn't use bath salt yet but creams save my 2years old daughter from using harsh steroids creams on her eczema! Also love your emails with advices how I can make my little girl healthier without harming medicines. If you looking for natural but still working products you should give it a go! Thanks
Anita R.
Australia
09/04/2020
Very Happy
I have a 21yr old daughter and over the past year her Eczema has spread all over her body. The bath salts helped immediately. The cream is also now doing its job. I would recommend this product, time and time again.
Dijana B.
Australia
08/06/2020
It works!
Have tried several creams for my son's eczema flare ups and was about to start a steroid cream when we decided to have one last look online for something organic and healthy as an alternative as we really didn't want to use a medicated cream, my son never has. We were hopeful and started using the intensive treatment and barrier cream and within a week his eczema cleared up! No more scratching, I couldn't bare to watch him be so uncomfortable. This was our last chance before using the steroid cream and we are so glad that we did now. Thank you :)
Jana C.
Australia
08/01/2020
Eczema Relief Program (Kit and Course)
I am enjoying the programme with talks by yourself and others which explain that eczema is not just an external problem, but an internal problem also. Many ideas are inexpensive and easy to try. The creams and bath salts are a wonderful help to my eczema. Thank you for using your trial to be a blessing to others.
Cindy O.
Australia
I was surprised at how quickly the creams took effect
My son started using My Mia's Eczema creams less than 2 months ago and his skin looks and feels incredible. We've cut down on our reliance of steroids. His personality is back to normal and he's now a happy little boy who can be a kid again. I'm very surprised at how quickly the creams took effect.
Lisa & Connor
For full testimonial Click here
The redness goes away really quickly... His skin feels beautiful
Nate's eczema gets quite severe on his face, his groin, his bottom, tummy, underarms. We're using
the My Mia's creams. The redness goes out straight away. It heals up very quickly.
I go straight to, the
creams now because they're just so much cleaner and healthier and they work.
Britt & Nate
For full video testimonial Click here
After 3 days I noticed a pretty impressive difference and he stopped itching.
A girlfriend referred me onto My Mia's and I reluctantly gave it a try. We used the bath salts, the level 2 cream and the barrier cream morning and night. After 3 days on the products I noticed a pretty impressive difference and Lenny had stopped itching. I've been so impressed with the products and how they've helped my son. Geeta, from one mum to another trying to help give their children some relief. THANK YOU!
Courtney & Lenny
For full testimonial Click here